Employers know that finding the right person for the job can be challenging.  But there are many skilled and experienced workers who are often by-passed or overlooked because their experience and education were gained outside of Canada.  The reality is, new Canadians have a lot to offer your company, and connecting with skilled, internationally trained individuals is easier than you think.
New Canadians are skilled and highly educated
Over half of immigrants (51%) who arrived between 2001 and 2006 had a university degree.   This is more than double the proportion of Canadian-born people who have degrees (20%).  Most newcomers have many years of professional experience from their home country and want to put this experience to work here in Canada.
The Canadian labour market is changing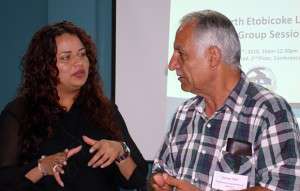 With an aging population and low birth rate, the demographics of Canada are changing and the Canadian-born workforce is shrinking.  In order to sustain the current population and ensure that there is an adequate labour supply in the future, Canada is welcoming immigrants from around the world.  Employers must realize that the pool of potential employees will increasingly reflect this trend and recognize that newcomers are some of the best candidates!
Diversity fosters innovation
Employees with international experience bring new and different strategies, approaches and perspectives to a company, which can lead to innovation and improvements in the ways you do business.  Companies that are open to change and able to embrace new ideas find that a diverse staff team has many benefits.
Skilled employees are closer than you think
The labour pool in west Toronto has hundreds of skilled job seekers who are ready to work.  Employment services can help employers connect with workers in the area where their business is located by posting open positions, promoting jobs through their networks, and assisting with hiring fairs.  Learn more about the benefits of hiring locally.
Improve connections with local markets
Every community has its own professional, social and family networks that are built on mutual understanding and trust.  Employees who have connections to particular ethnic, cultural, linguistic or religious communities can potentially facilitate a connection between your company and these markets, which may otherwise be difficult to tap into.