The Toronto West Local Immigration Partnership
The Toronto West Local Immigration Partnership (TWLIP) is a collaborative initiative to enhance local delivery of services to newcomers, while promoting the innovative and efficient use of community resources through improved coordination among social service agencies as well as other community stakeholders. The Toronto West LIP is funded by Immigration, Refugees and Citizenship Canada (IRCC).
The geographical area of the Toronto West LIP quadrant extends north from Lake Ontario to Steeles Avenue West, west to the Mississauga  boundary and Highway 427, and east to the Humber River, Dufferin Street and along the CP rail line.
The project is overseen by three Partner Agencies:  Delta Family Resource Centre, Rexdale Women's Centre, and Woodgreen West (formerly JobStart).  Woodgreen was selected by the Partner Agencies to be the Lead agency and hold the contract with IRCC for this initiative.  In that role, it provides project management, supports the TWLIP Planning and Coordinating Committee and facilitates the achievement of project deliverables.  Among these are the development of a governance framework for the LIP and the development and implementation of a Toronto West settlement strategy to improve newcomers' access to settlement services and other community programs, and to improve newcomers' transition into the labour market.  The TWLIP Settlement Strategy identifies key priority areas for action.
Benefits of the Toronto West LIP
There is a common interest across many stakeholders in building an effective LIP to improve service delivery to newcomers in Toronto West. The TWLIP Planning and Coordinating Committee sees the following benefits accruing to an effective collaboration:
Higher quality of  life of newcomers
A more inclusive and equitable community that is informed, engaged and empowered
A safer and healthier community for all to enjoy
Greater community capacity and the ability to respond to service gaps through collective action
Better deployment of limited resources, thereby meeting commitments to funders in a cost-effective way
Recognition of the service provider networks and their organizations as essential services in Toronto West.
[custom_frame_right shadow="on"]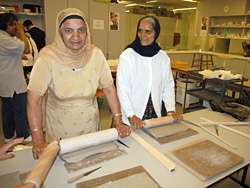 [/custom_frame_right]
Vision, Mission and Values
Vision:  Our vision is a Toronto West community where – through a collaborative approach – newcomer's needs are met; they are fully engaged and integrated in our communities.
Mission: Our mission is to:
Reflect, support and welcome diversity
Value and involve the talents and experience of newcomers
Raise awareness of community issues and encourage collective action
Co-ordinate a service delivery system within TWLIP which is seamless, and client-centered
Share resources, best practices and opportunities
Coordinate existing resources for newcomers and immigrants
Values:
We value:
A process which is collective and community centered
Inclusiveness
The lived experience of newcomers and established residents
Perseverance, tenacity and positive resistance as we attempt to influence, negotiate and raise awareness
Civic engagement and social justice for all
Structure and Membership of the TWLIP (as of April 2018)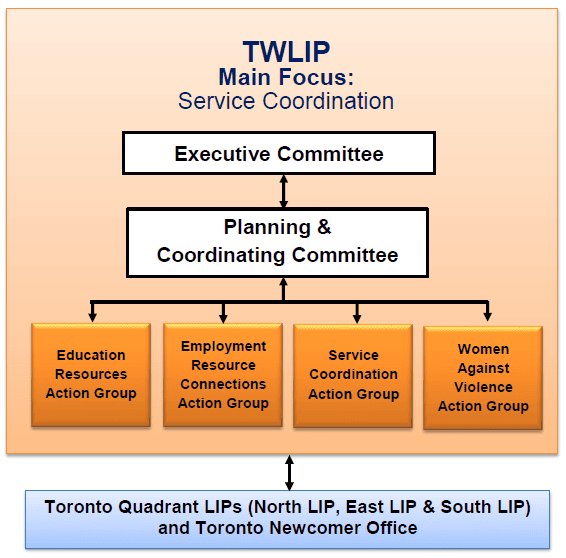 TWLIP Organizational Chart
The organizational chart of the Toronto West LIP was created based on the voices of our members. The TWLIP implements actions that are identified by the members of the Planning and Coordinating Committee (PCC), with the focus on enhancing service coordination among service providers. Executive Committee will ensure that the contractual obligations with the funder are met.
The TWLIP PCC accepts applications from prospective members semiannually, provided that the Committee is not at its full membership of 25 representatives. Prospective members who are interested in joining the PCC will be required to complete and submit the application form.
The TWLIP will also work collaboratively with other Toronto LIPs in various capacities of the LIP projects. For example, we have representatives sit at the Newcomer Leadership Table (one component of the Toronto Newcomer Strategy); we are involved in the work of other quadrant LIPs; we also invite representatives from other LIPs to join the TWLIP's city-wide project.
The Toronto West LIP has a broad and diverse membership, made up of representatives from settlement agencies, multi-service community organizations, ethnospecific organizations, school boards, health centres and municipal social services, as well as residents and newcomers.
Members are active participants of Action Groups – committees that meet regularly to develop and implement collaborative initiatives within the overall strategy of the LIP.  These action groups are working on the following initiatives:
Education Resources for Newcomer Families
Labour Market
Service Coordination
Women Against Violence