Professional Development and Networking:
Improving Information & Referrals
Friday, October 24, 2014 @ Humber College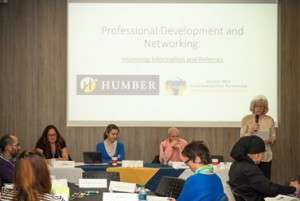 A lunch and learn event that was collaboratively organized by the Toronto West LIP and Humber College took place on Oct 24th 2014. Approximately 60 people, mainly service providers from various organizations, attended the event. The agenda included a panel discussion and a case study session. Additionally, a networking opportunity was also provided at the event for the participants to connect with each other before the opening remarks, with lunch generously provided by Humber College.
Three panelists were invited to speak at the panel discussion regarding the recent changes to the immigration and citizenship policy. Julius Mlynarski (Lawyer-Director at South Etobicoke Community Legal Services) highlighted the changes on the citizenship application and the family class sponsorship; Aisling Bondy's (Professor, Immigration Consultant Certificate Program at Humber College) presentation included the changes on refugee claimants, foreign workers and economic classes immigrants, Aisling also shared her hypothesis for the future immigration trends; Fatima Filippi (Executive Director at Rexdale Women Centre) talked about how these changes will impact service delivery on the ground and shared her ideas about what she thinks the sector should do to respond to these changes.
The second part of the event was a case study session. The event planning committee had developed five case studies focusing on different immigrant groups. Scenarios relating to citizenship, refugees, international students, non-status immigrants, and LGBTQ newcomers were presented. The goal of the case studies was to explore how frontline workers respond to challenging cases and assess the extent of their knowledge /awareness around appropriate information and referral to services and programs for their clients.
For each case study presented, participants were asked to form two groups and discuss ideas in addressing each case. The responses were noted on a flipchart by a scribe within the group and then each group took turns to share their responses highlighting their learning's and experiences in addressing the scenarios presented. It also gave the group an opportunity to learn about existing or new services available to support their clients. Many of the service providers also exchanged business cards and talked about their roles within their organization so it was a good opportunity to connect with each other and network with other professionals in the settlement sector.
This event was successfully held and well received by the participants. According to the event feedback, participants felt that the information presented was relevant (100%); majority of them also felt that their awareness of the issues in the topic areas has increased (89%) and that they had an opportunity to make new contacts (80%).